EYFS
Week Beginning 27th November 2023.
We have had a great week in EYFS! From rescuing penguins from the frozen ice to learning songs about different shapes. We had fun writing our Christmas lists. The children are excited about posting them next week at the post office. Both Tadpoles and Ducklings classes have been learning their roles in our Nativity.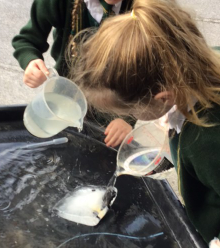 Worship theme of the week:
Reflection
"Set your minds on things that are above, not on things that are on earth." Colossians 3:2 
Curriculum this week:
Please note that our curriculum overview for this term is at the bottom of the page.
In English, there will be a focus on writing a list. In this, we will have a go at writing some of our own words and recognising the initial sounds.
In Maths, we are focusing on repeating patterns and we will have a go at making our own repeating patterns.
In Phonics, the sounds we will be learning the 'sh', 'th' unvoiced, 'th' voiced, and 'ng' sounds.
We are going to understand the Christmas Story and consider why Christians perform nativity plays at Christmas? 
Our focus text this term is 'The Gruffalo' and other Julia Donaldson books.
Word of the week:
Our word of the week is 'vibrant.' Please explore the word meaning at home and encourage your child to use it in sentences.
Homework:
Please note that this term's project homework is at the bottom of this page. In addition to this, please continue to practise the word walls.
Reading:
We would love to see the children in EYFS using their extra time at home to read some brilliant books. If children read three times at home, they get a raffle ticket. Please, therefore, keep a quick record in reading logs – your children can write the title in to help! We would also like to encourage children to bring their reading records into school every day.
Coming up:
Our Library and PE day is on a Wednesday.
Post Office trip- Tuesday 5th and Thursday 7th December in the morning.
EYFS Nativity Performance - Tuesday 12th December. One performance at 1:30pm and the other at 5:30pm.
Many thanks for all of your support,
Miss Daw & Miss Wingate
Additional Resources:
Recommended Book list for EYFS: https://www.booksfortopics.com/booklists/recommended-reads/reception/
Everywhere Bear - we have sent home the Everywhere Bear today. Please remember to share photos of your weekend on Tapestry and bring the bear back on Monday.
Class Cup - we have sent home the class cup and tie today. Please remember to bring back on Wednesday.
Reading Sketchbook - each week a new child will bring home the reading sketchbook. Please draw some pictures and write about your favourite story. We cannot wait to find out which is your favourite and why.
Purple Mash - please explore Purple Mash at home. It has many activities you can have a go at.
Healthy Teeth - we have attached a link below about the importance of children brushing their teeth. If you are struggling with this at home, please do let us know. https://www.nhs.uk/live-well/healthy-teeth-and-gums/taking-care-of-childrens-teeth/