Year 4
Week beginning 4th December
The students have been working hard all week on their Christmas performance! Please join us on the 13th at 5:30 to see their hard work in action! If your child has brought home any lines, please encourage them to practise these at home.
This week, the girls in Year 4 continued to have a football training session with some of the AFCB coaches who work within schools- we hope they had a lot of fun! They were very enthusiastic in the session, and it was great to see some of them choosing to play football at lunch break.
A gentle reminder to please send in any home learning that your child has completed at home. We love to share their hard work and display it on our project board.
On Thursday 18th January (3:15pm - 3:45pm) we will be holding an information evening about Hooke Court, so please save the date.
Worship theme of the week:
Reflection
"Set your minds on things that are above, not on things that are on earth." Colossians 3:2
Curriculum this week:
Please note that our curriculum overview for this term is at the bottom of the page.
In English the children will be exploring a new text The Polar Express.
In Maths we will continue to be learning about multiplication and division.
Our RE learning will focus on incarnation.
In Science, we will be learning about different food chains that happen in different habitats.
In Art we will explore the works of David Dancey Wood, discussing his unique style and techniques analyse and compare artwork from various artists to understand how styles can differ.
In computing, the children will continue to use a simulated scenario to produce a news report.
In PSHCE we will be recognising differences between people such as gender, race, faith.
Our book in Destination Reader this term is 'Malala' and below is the book cover, alongside the reading strategies we will be learning throughout the year: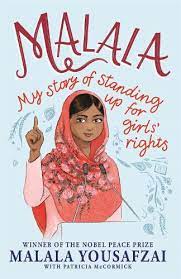 Spelling words to practise this term:
Words with ei sound: weigh, eight, sleigh
Words with 's' sound spelt as 'ch': chef, parachute, brochure
Spellings to learn this term:
they
weigh
eight
grey
sleigh
touch
blood
trouble
chef
brochure
parachute
machine
exercise
forward
grammar
ordinary
fruit
Homework:
Please check the homework overview at the bottom of this page, we will share and display the home learning in class.
My Maths will be set each week and the task is due every Thursday.
Reading:
Remember to read at home as much as possible! If children read three times at home, they get a raffle ticket.
Reading Raffle – Please encourage your child to record in their yellow reading record when they have read at home.
3 reads a week = 1 raffle ticket
5 or more reads a week = 2 raffle tickets
Library Day is on a Tuesday for both classes.
At the end of every other term, two names from each class will be drawn in Worship and those children will make a special trip ( with a book) to our local Costa to enjoy a babyccino!
Recommended Book list for Year 4… https://www.booksfortopics.com/year-
Key Dates:
Wednesday 6th December- Last swimming lesson for Malawi
Christmas performances – Wednesday 13th December – Year 4 Christmas performance, 5.30pm.
Monday 4th December – PSA Christmas wreath making workshop in the hall - 7.00pm - 9.30pm
Thursday 18th January Hooke Court presentation in Malawi Classroom 3:15pm- 3:45pm
Wednesday 28th February- Friday 1st March- Hooke Court
Thank you for your continued support,
Mrs Talbot, Mrs Jacobs, and Ms Soresman